1. She is a Hybrid Drag Queen
Acid Betty prides herself as being the leader in Hybrid Drag. This means that her drag is a mixture of what are considered to be feminine and masculine elements.
It was the best way to describe myself at the time. When I started working in New York the club kid scene was hardly breathing and there was only one kind of successful drag queen — and it wasn't me. I was pushing the boundaries of drag and including the lack of padding or tits as still beautiful! I came onto the scene and no one knew how to put back their eyebrows or style a wig. I was aiming to master the "greats" work — such as Lady Bunny, Joey Arias, Sherry Vine and Leigh Bowery — and then throw it back at New York and see what happened. I think they call it "Brooklyn drag" now, but at the time I was thrown up against a lot of discrimination within my community as well as out. However, I fought the good fight and now drag is just a mess isn't it? The great part is I now have self-confessed "hybrid drag queens" all over this crazy world, so watch out!
2. She is an amazing visual artist
Acid creates her own clothes and has a digital design agency that you can check out here.
3. She got "the bitch edit" of Season 8
If you are fan of RuPaul's Drag Race you should know about "the bitch edit" – it's basically editors making a Queen look like a bitch while editing the show. This doesn't mean that Acid didn't say the things she said, it means that other Queens probably made similar comments, only the editors show other sides of them.
This also happened with Phi Phi, Gia etc.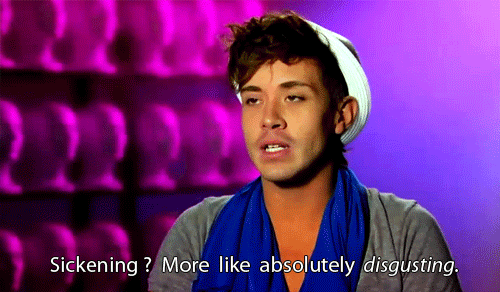 4. Her biggest support is her sister
Both of Jamin's parents died, so Acid's biggest fan is her sister Beckie. They both work together as digital designers, and seem to love each other very much. Would love to see Beckie on the show one season.
5. Her last name is inspired by Bettie Page
A mix of "Acid" and her love of 1950's pin-up model, Bettie Page.
6. She has a tattoo of herself
On her left arm Acid has a tattoo of her friend's interpretation of her.
7. Her ex stated that she is an abuser
Go over here to read about it.
8. She is great friends with Bob and Thorgy
If you look closely at the end of Episode 5, you can see them tear up/sad because of Acid leaving.
9. She was on Project Runway (Season 5)
Here's a reason for watching it if you haven't already.
10. She cried during Whatcha Packin?
In her latest Periscope, Acid asked whether or not her crying was aired. Apparently, Michelle and her exchanged stories about their moms (Michelle's mom is dealing with the same illness Jamin's mother died of)… So maybe "the bitch of Season 8" is actually a soft cookie on the inside?